If you're wondering where I've been, I'm sorry to say that it hasn't been for a good reason. This semester, my classes have interrupted work twice a week and thrown my entire schedule completely off! I feel like I spend most of my time driving these days.
Anyway, I've finally gotten used to my schedule and I'm back in black. Steph has done a great job of keeping up on writing and sharing all of her cool adventures!
One of the things I've been really into these days is playing my Nintendo Switch. To be honest, I haven't had a console of my own since I had my Game Boy Advance. We had a Super Nintendo back in the day (the OG) and we had a Wii. My sister has had a PlayStation 3 and now has an Xbox. That being said, we have mostly used all of those for streaming TV and movies *wah wah*.
When my boyfriend got his Switch, I played around with it a bit and loved it so I decided to get my own! Because I'm not much of a gamer, I thought I'd share what's kept me entertained. I figure there may be some of you out there who just like to play occasionally but aren't hardcore gamers.
Super Mario Odyssey
If you're going to buy a Switch, you really just need to buy this game. I loved it! I've always been a big Mario fan ever since I played Super Mario World on Super Nintendo back in the day so I'm always down to play anything with this dark-haired cutie.
The different worlds are entertaining and colorful and so freaking cute. It's hard to put down because you want to keep playing. It's a great game to get for your kids that you'd feel comfortable with them playing.
Mario Kart Deluxe 8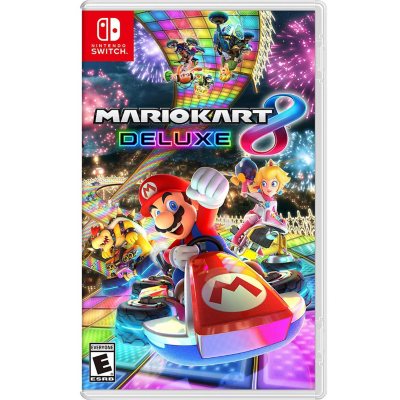 This is also a no-brainer. This is a great game to play with lots of people. It has a lot of tracks from all the previous versions of Mario Kart on different consoles so it's fun to get to play those.
Overcooked 2
I LOVE GAMES WHERE EVERYTHING IS ADORABLE. This game definitely meets that criteria. I never played the first one but Cody and I got this one to play together and it's so much fun. I've learned a lot about myself playing this game, mainly that I suck at multitasking apparently.
On each level, you learn a recipe and you have to churn out a few meals for the people waiting, otherwise, you lose customers and money! It's kind of like Diner Dash but kicked up a few notches. My sister and I will also play this and we'll laugh for a while because of how crazy it gets.
The Inner World
I was attracted to this game because of how cute the animations were. I'm not going to lie, it was kind of hard for me in the sense that it has continuous puzzles that you have to figure out and I'm not the greatest at it. Luckily, it has a guide that will help you figure out what your next step is if you get stuck.
It's a pretty clever game, to be honest. I ended up getting the second one after I finished this one but I've kind of put that one on the backburner. Robert is the sweetest person and just wants to help everyone out while Laura is super sassy and gets Robert to toughen up a bit.
Celeste
I'm kind of cheating on this one a bit because I played it on Cody's Xbox but it's available on the Switch and I loved it so here we are. Celeste is just trying to reach the top of the mountain and there's a bunch of obstacles that get in her way. It's a little creepy at times but overall, it's super cute. (I know, there I go using that word again.)
It just has great music and adorable animation and it makes you feel like you're playing an old-school game because of the way it's animated.
Little Nightmares
I'm also going to cheat on this one because I played it on the Xbox but this one was freaky good and it's available on the Switch. It is one of the scariest games I've played, which obviously isn't much, but I just had to finish it (with a little persuasion from Cody). The creatures are so creepy and you're seriously just dying to get away from them or not be seen.
I probably wouldn't recommend getting this for a little kid because of how scary it can get. I don't doubt they called it Little Nightmares for nothing. But if you don't mind a little scary game here and there, this one is for you.
Jackbox Games
If you haven't heard of Jackbox Games yet, you should. I love playing games with my friends and family and this is a perfect one for that! Each party pack comes with about 5 games and the best part about it is that you only need a phone to play. You log onto their website and there will be a room code on each game that you start where your friends can join on their phones and their phones become their controllers.
We just recently played Monster Seeking Monster from Party Pack 4 and we were dying of laughter. They just have some clever games! Definitely worth getting the different party packs too because there are different games on each of them. I heard Party Pack 5 is coming out soon so it will be cool to see what they have.
If you have any other games I should try that aren't super difficult or incredibly time-consuming, I'd love to know! I'm always looking for something new to play. Especially if it's adorable 🙂
You can get your Switch from Amazon for $299!
xoxo Michelle