Fall is here and I'm so excited! It's my favorite time of the year. Fall in Utah is gorgeous because the trees are all different colors and it's rainy, dark, and cloudy. One of the best colors you'll find in fall is the mustard yellow color on the trees. It really makes everything pop! Just like in nature, mustard yellow is a great color to wear in the fall. I used to hate yellow and I never owned anything this color but I fell in love and now I have three tops.
I wanted to share some great fall pieces of this color that you could get right now to complete your outfit!
Tie Back Pullover Sweater from Charlotte Russe
This pretty thing is only TWENTY BUCKS so you can't even make up an excuse not to get it. I love the tie back detail. Get this baby here.
Steve Madden Trace Studded Mule
Mules are really in this season and this is a great shoe to accentuate your outfit! Nordstrom has it on sale for $47.96 (originally $80). Get it here!
Girls Night Halter Top from Bohme
"But Michelle, what if I live in a really warm climate and it's too hot to wear a sweater?" This is the top for you. You deserve to wear fall colors even if you don't get the weather. This top is $41.99 from Bohme and you can get it here.
La La Lady Dress from Ivy City Co.
One of the best things about colder weather is long-sleeved dresses! This buttery velvet dress is perfect for fall and will make you want to twirl around to your heart's content. It's $62 and I doubt it'll be in stock for very long. Get it from Ivy City Co. here!
Fern Print Maxi by ROOLEE
For you tall hotties that can pull off maxi dresses, this one is perfect! I love the floral pattern and the ruffled hem. This one is available from ROOLEE and you can get it here for $44.
New Look Long Sleeve Wrap Bodysuit from ASOS
I'm a big fan of bodysuits because they just make every outfit look so nice. This one from ASOS is super cute and it's only $26. Get it here.
Milania Shorts from XO Mandysue
For those of you that live in warmer climates, these yellow shorts are adorable and would be perfect with a light sweater! These are only $35 from XO Mandysue and you can get them here. Remember, Salt + Sugar readers get 35% off on their website by using promo code SALTSUGAR35 so go treat yourself!
Mustard Thermal Button Top from Dottie Couture
Thermal tops are really in right now and this one has cute buttons to go along with it! It's $32 at Dottie Couture and you can get it here!
Solid Pleated Oblong Scarf from Maurices
Maybe you just want a little bit of yellow to add to your outfit. This scarf is perfect for adding a pop of color! You can get it here from Maurices for $18.
Fujifilm X UO Instax Mini from Urban Outfitters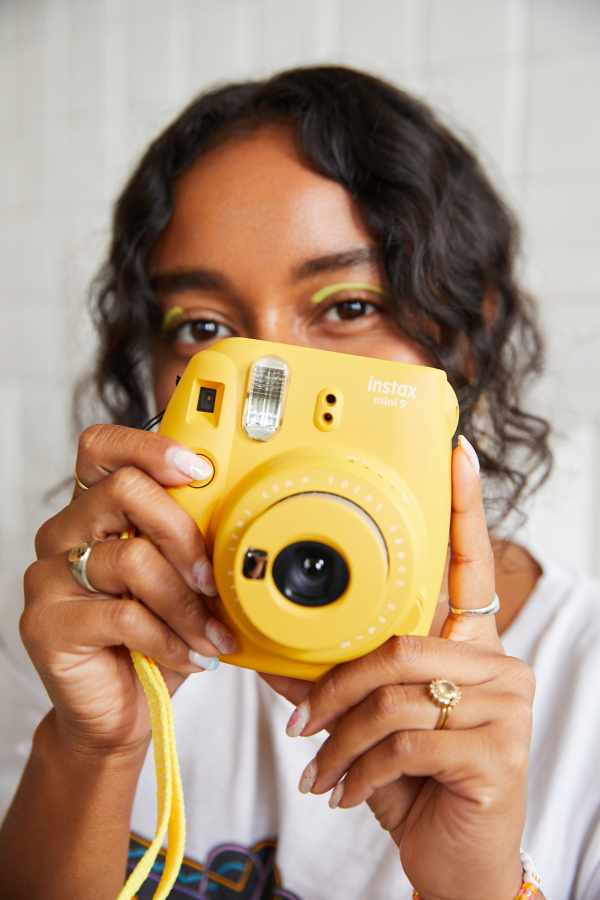 Maybe you just want to look good snapping a picture. This little baby is for you! You can get the Fujifilm Instax camera in Marigold for $69 at Urban Outfitters here.
Boyfriend V-Neck Cardi from Old Navy
I love cardigans and I have more than I need to have. A mustard yellow cardigan is a perfect addition to your outfit for a pop of color. You can get this one from Old Navy for $30 here.
Syndicate Yellow Striped Ribbed Bodycon Midi Dress from Lulu's
Steph and I love stripes and this is a perfect dress with stripes! You can pair it with a denim jacket to complete the look. It's available at Lulu's here for $48.
Mid-Rise Pixie Utility Chinos from Old Navy
Finally, you'll need to bring your fall colors to work obviously so why not grab a pair of Chinos in mustard yellow? These cute pants are available from Old Navy here for $39.99.
Your closet will thank you for adding a cute pop of color!
xoxo Michelle