I haven't written about beauty products recently but I wanted to share the ones I've been using quite a bit lately & why I love them.
Cerave SA Cream for Rough & Bumpy Skin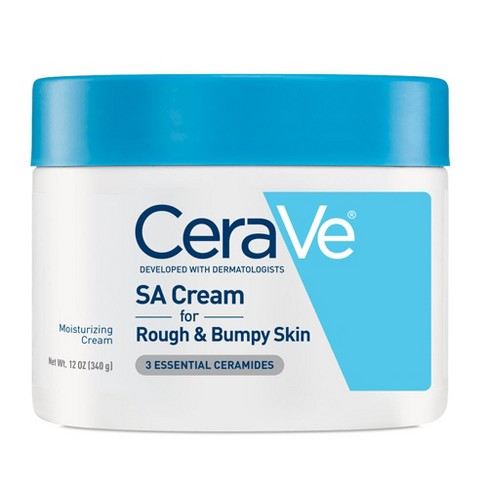 I've talked about this product in my top 10 beauty products post but I've been breaking it out a lot more lately now that the weather has gotten colder. Whenever it gets cold, my skin gets drier and I feel like I have goosebumps all over my body that won't go away. This, of course, isn't goosebumps but it's called keratosis pilaris (KP). KP causes small bumps all over your skin that look like goosebumps but just kind of stick around.
Mine is only on my legs but it makes me itch and pick at the bumps. To avoid this, I use this little baby. This makes my skin so smooth and gets rid of my bumps! Two nights ago, my legs itched like crazy and the bumps were all over. I put some of this on and the next morning, the bumps weren't visible and my legs were hydrated. I LOVE THIS STUFF. You can get it from Target or from Amazon!
ChapStick Total Hydration 3 in 1
My lips are always chapped but in the winter, it gets worse. Also, it doesn't help that when I'm lost in thought or I'm focusing on something, I will chew on my lips. One thing I really wanted to do was find a good chapstick. I've used tons of them, more than you can imagine but this one is my favorite one so far. It's just pure moisture and I can still feel it on my lips 30 minutes later! It doesn't just disappear. It's been great at keeping my lips hydrated because when they're not, that's when they peel the most. The sweet peach flavor (scent?) is great as well. I bought it from Target in-store but I have attached the link here.
Batiste Dry Shampoo: Divine Dark
I'm a fan of dry shampoo and I probably will be until someone invents a machine that will wash and style my hair for me in my house while I watch TV. Anyway, I ran out of dry shampoo last month and bought this bottle to try it out. I've tried the other Batiste dry shampoos and they were great but I had heard a lot about this one. Let me tell you, it is wonderful! My hair is blonde but my roots are my natural dark brown so this is perfect for me because that's where all the oil is! It doesn't leave the white residue and blends in really well. I'm obsessed with it.
One thing I will warn you about is the horror scene that will occur when you shower after using it. I really didn't put two and two together that it sprays out color (because I'm smart like that) so I had shampooed my hair and was happily rinsing it out when I looked down and saw the brownest water I had ever seen. Had I rolled around in mud and not realized it? Nope, it was just the color from a day of lots of needed dry shampoo. You might want to pick up a clarifying shampoo after using this but personally, I think it's worth it. Also, I haven't noticed any color transfer to my clothes or bed from using it so hopefully it's the same for you. You can get it from Ulta for $8.99!
Artnaturals Purple Shampoo
Speaking of the blonde in my hair, I have to keep it nice and toned because I hate when it goes brassy! My friend Ally told me about this shampoo that she got on Amazon and I've loved it so much. I've tried so many purple shampoos and this one seems to work for me. My shower is filled with purple shampoos that I'll try and hate and I'll end up going back to this one. The thing that I've noticed with purple shampoos, though, is that everyone is totally different. I've had super nice ones recommended that don't work for me so try it and tell me what you think! If it doesn't work, let me know what does 🙂 Get it from Amazon here.
Bite Beauty Matte Crème Lip Crayon in Glacé
I got a sample of this lip crayon in my Sephora box and I've been so obsessed with it. It's close to my natural lip color so when I look extra pale and ghosty, I swipe this on and it rejuvenates me. It goes on super smooth and doesn't leave the buildup of a lipstick. I've been meaning to try more colors because they have a ton! I keep this in my purse whenever I need to spruce up my look. Get it from Sephora here.
What are you obsessed with right now??
xoxo