I love Halloween. This month, I've had the greatest time watching scary movies and shows to stay in the mood. I've never understood why people hate celebrating Halloween. I love the excitement of choosing your costume and watching all the creepiest things. I like watching scary movies year round but especially in October!
I thought I'd compile a list of my favorite creepy shows & movies that you should watch these next two days to maintain the mood 🙂
The Haunting of Hill House
If you haven't watched this show on Netflix yet, you're missing out BIG TIME. If you haven't heard about it at all, you must be living under a rock. This is based on the book of the same name by Shirley Jackson (which on my wish list for Christmas this year). The characters are all amazing and it is legitimately creepy. The storyline is fantastic. I highly recommend it to everyone.
Castle Rock
Castle Rock was amazing. It was like a mixture of all your favorite Stephen King movies plus some really twisted stuff. All of it is available on Hulu now for your convenience. You also have to pay a lot of attention because it can get very confusing!
Hereditary
This movie was freaking insane. I thought it was super scary and disturbing but then other people have told me that it was dumb. I'm not sure what to tell you about this besides the fact that it creeped me out. Plus, it was also scary when I realized it was filmed in Utah and I recognized some of the places in it. I didn't like that one bit.
Veronica
This movie came out on Netflix last year but if you haven't seen it and you like scary movies, you should. It's filmed in Spain so there are English subtitles but that doesn't stop it from freaking you out. I was scared while watching it the first time but then I liked it so much, I watched it with my friends and family again.
The Babadook
I watched this movie while folding laundry so I can promise it's not the scariest one out there. There are some jumpy parts to it and the sound of the Babadook is not the friendliest. Definitely worth watching though!
The Visit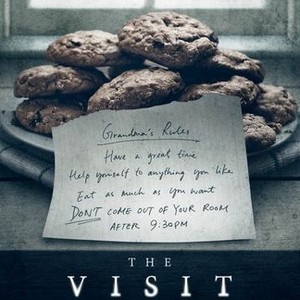 People are going to think I'm so dumb for mentioning this one but I'm pretty sure I screamed out loud at one point. It was just disturbing and now I don't trust anyone's grandparents!! Also, their take on sundowning is the creepiest thing in the entire world.
The Fourth Kind
I watched this when I was younger and it completely scarred me for life. I remember having to turn on SpongeBob after watching it. Whenever that happens as a child, I will try to rewatch the movie as an adult to get over that fear. It usually works out pretty well and I realize that it was all irrational. However, this is one movie I still haven't been able to finish as an adult. I got really courageous a couple months ago and I tried watching it with Cody and we didn't finish it. It's freaky! IT'S ALIENS, OKAY?
Get Out
If you haven't seen this movie yet, I'm very upset with you and you're far behind. Don't watch anything else until you watch this one first. It's pretty awesome. I didn't see any of it coming.
The Strangers
Okay, I lied. This one is also a terrifying movie that I still haven't brought myself to watch 10 years later. It freaked me out so bad because it was based on a true story! AGH.
Insidious
This only applies to the first one but it is scary. I still think about the red devil guy sometimes and I have to watch something happy instead to take my mind off of it. I think it's very well made and it'll getcha.
The Classics
You can't let October go by without watching a classic Halloween movie. That's just ridiculous. Plus, they're not even that scary! Here are my favorite originals that are always worth a watch:
Halloween
The Silence of the Lambs
The Exorcist
The Omen
A Nightmare on Elm Street
Psycho
The Texas Chainsaw Massacre
The Shining
Misery
The Sixth Sense
Carrie
Scream
The Fly
Rosemary's Baby
The Ring
The Grudge
The Blair Witch Project
Poltergeist
Pet Sematary
Anyway, go watch these and thank me later when you can't sleep.
Happy haunting!
xoxo